7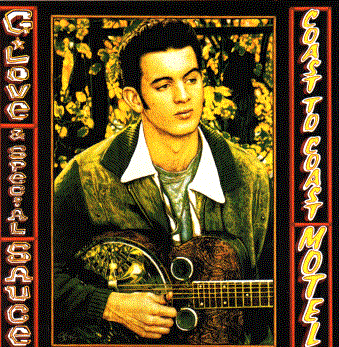 Coast to Coast Motel was the band's second majour released, released in 1995.  Their next majour released, however, wouldn't be until over two years later.  "Kiss and Tell" made this CD a hit.  My favourite song on this CD is "Coming Home".  The tracks of this CD are (click on the link for lyrics, and on the speaker for a sound clip [if you have any more sound clips from this CD, please e-mail me]):
1.    Sweet Sugar Mama
2.  Leaving the City
3.    Nancy
4.    Kiss and Tell
5.  Chains #3
6.  Sometimes
7.  Everybody
8.    Soda Pop
9.  Bye Bye Baby
10.  Tomorrow Night
11.  Small Fish
12.  Coming Home

Not too long ago in Cambridge Town
At the plough and stars where grooves abound
People were packed in tight checkin' it out
A brand new vibe with traditional clout
G. Love, Jazzy J., and the Houseman throwin' down
Holding forth the rag mop sound
With some Delta blues, Chicago too
Philly and Motown a rock and roll stew
And a hip hop beat to give it some leverage
Yeah!  Good will was flowin' just like a cold beverage
With some lemon and lime.  It was a real cool time
To see a local band in their prime
Soon their fame was spreading far and wide
And that was the beginning of their mighty long ride
Coast to coast and over the oceans
G. Love and Special sauce are in perpetual motion
Soon they'll be coming to your city or town
So go have some fun yeah!  Go get down
I know you'll have no down in your mind
Their fresh American music is fine as kind

Guitar, Vocal, Harmonica:  G. Love
Drum Kit, Background Vocal:  Jeffrey "Thunderhouse" Clemens
Double Bass:  Jimmy "Jazz" Prescott
Horns:  Rebirth Brass Band
Electric Piano:  Jim Dickinson
Background Vocals:  Brodeeva
Assistant Engineers:  Roger Branch, Trina Shoemaker, and Richard Hasal
Studio Assistants:  Sandy, Carol, and April
Recorded at Kingsway Studio, Sea-Saint Studios, Chez Flames Studios, New Orleans, LA
A&R:  Michael Chaplan
Managament:  Jonathan Block, Majour Music
Art Direction and Design:  Chika Azuma
Illustration:  Ski Williams, portrait after photo by Ron Kruit
Motel photo:  Jeffrey Clemens
Inside photo:  Karim Ek
All songs produced by Jim Dickinson and Special Sauce and engineered by Bob Krusen except "Soda Pop", "Bye Bye Baby", and "Coming Home" produced by Keith Keller and Special Sauce.
All songs mixed by Don Smith except "Bye Bye Baby" mixed by Keith Keller.
Love Love Love...