---
HEAD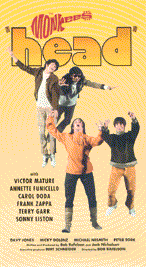 HEAD was The Monkees debut (and only) movie, released in 1968. A flop in threatres, it was pulled out and forgotten. But, to this day, it remains a hit cult flick for die-hard Monkeemaniacs and just generally weird people. :-)
It all started one day in late 1967. The Monkees all sat around one "smoking grass" (as Davy later admitted) and they all came up with little stories. Jack Nicholson and Bob Rafelson put them all together in screenplay format with dialogue and other galore, and thus, HEAD was born.
Between the months of February and May, 1968 in various locations, the filming for the movie took place. The props and setups were the same as the show, such as The Monkees' pad, only improvised. The movie was released later that year, but failed. To this day, it is still at times a mystery why The Monkees released this film, and also what the significance of it was.
Recently this film has been re-discovered, thanks to Rhino's re-issue of all the records, a bunch of episodes (more coming soon) and now HEAD. Although it's still not known by most people, those who have heard of it love it! :-) And how couldn't they? This movie is superb -- it's like a very abstract poem, you have to work and think to get the meaning. :-) Problem is, most people don't think of that with movies. They just figure that they can watch it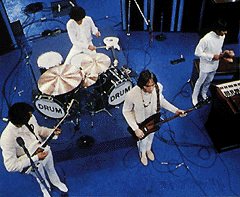 and that's that. But HEAD's not like that. Let's face it, HEAD's just not like other movies. :-) It's a classic; legendary, and well worth seeing! Many times over! :-)
There have been some recent discussions and such as to the many questions surrounding this movie. One being: why was it made? The Monkees were very popular at that point, and although their mega-stardom was slowly declining because of the recent cancellation of the show, but still, they were a common household name. Now, when people thought of "monkeys", they didn't think of the animal, they thought of the group, "The Monkees". HEAD was a failure -- and they must have forseen it. It was obviously not a movie for the masses. So why was it created? It was, more or less, the one thing that ended that period of Monkeemania, the *original* period of Monkeemania. :-)
One of the thought reasons is: it was a good-bye. Just a way of saying,

"Yeah, we're The Monkees, but we're fading, and we're going to go out with a big bang." And that they did! :-)
Another big discussion is the plot. Or lack thereof. It was seemingly one big trip (having been described, after all, as "A Hard Day's Night on acid") of meaningly plots and tiny little story lines, thrown into 90 minutes of fun and connected only in one tiny little way -- how each one began and ended was similiar to how the next scene, or "story", began and ended. It also came all together in the end, but, alas, *that* didn't make much sense either. :-)
During a Monkees chat on Valentine's Day via Ticketmaster, I asked: "Was there some inside meaning intended with HEAD, or was it just what it appeared -- nothing
but a few groovy scenes thrown into 1 and a half hours of fun? Or possibly even a combination of both .... ????", just to see what The Monkees themselves would say. Peter answered me: "The movie was representational. It was Bob Rafelson's view of The Monkees phoenomenon, our impression, show biz pressures, his impressions, like that."
That, along with various Monkees newsgroup discussions, compiled into two logs by RoxEllen, proves that HEAD wasn't just mindless drivel -- it was written intelligently and had meaning!! :-)
---
Other HEAD Stuff On This Page

The Meaning Of HEAD

A Full Cast List

Other Credits

HEAD Quotes ~ best viewed with Netscape


HEAD Reviews ~ what other people have to say about this movie.


HEAD Essay ~ by Leah!!


Pictures from HEAD ~ include the ones from this page, plus more! :D


Sounds ~ page with many sounds from the movie and soundtrack


Soundtrack Info and Review

Sign the Guestbook

View the Guestbook